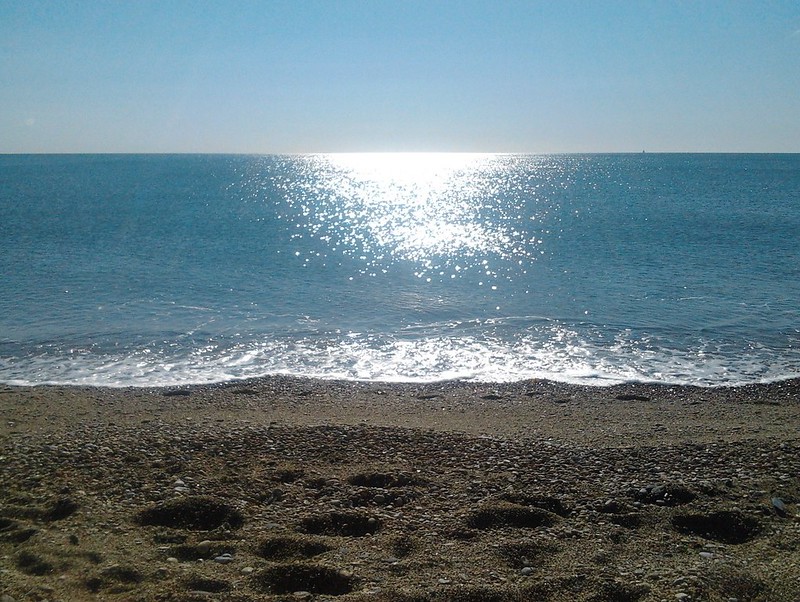 It feels in a way as though summer is already drawing to a close, and so even more important to grab the sunny days. Himself woke me this morning announcing it was a lovely day and we should breakfast on the beach. I dragged myself out of bed muttering that the tide was wrong and our beach would be covered, but we could head to Slapton sands instead, and himself could also indulge in his summer hobby of fishing-not-catching. And so the rod was slung into the car and off we went.
And it was beautiful.
He fished:


We breakfasted:


yep that is hot chocolate and marshmallows and grated chocolate no less.
Then in a break from the normal routine, himself did some actual catching

And here it is, recorded for posterity, his first fish. A bigun. He asked me what he should do – this actual catching of fish being a novel thing, and I told him to cloche it, (I really should stop mixing up cosh and cloche… ) unhook it and bung his feathers back in the sea quick – as there were three of us and only one fish. This he dutifully did, and the landing of this fish was noticed as the beach filled suddenly with other hopefuls casting out, including a kayaker and a Labrador dog fetching sticks… I'm not convinced the dog owners were really helping…. Despite this, he still reeled in more, and for once returned home with our bounty, and had fresh mackerel for lunch.
Simple pleasures.